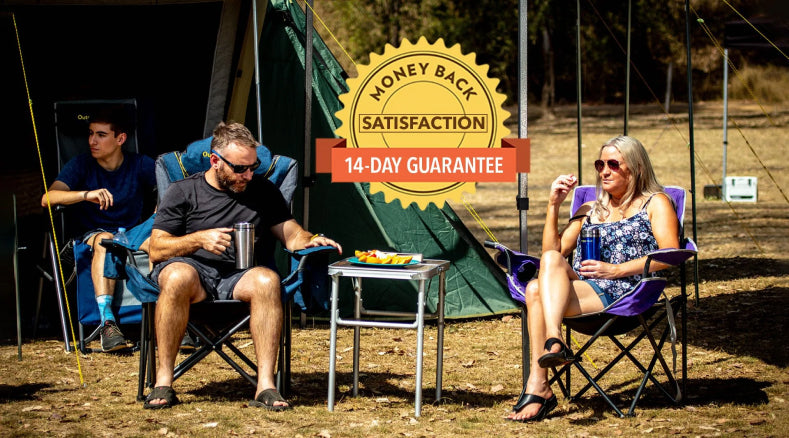 Outdoor Connection aims to always make your camping and outdoor experience as comfortable and easy for you as possible. We ensure our products are designed for comfort and practicality while being well-made with quality materials.  We're so confident you'll love our gear, that we're offering a 14-Day Furniture Satisfaction Guarantee.
Sitting in a chair for 2 minutes in a store is very different to sitting in a chair for an extended period at a BBQ or a weekend away.  You want to be sure that the chair is comfortable for you. This 14-Day Furniture Satisfaction Guarantee gives you time to set up your new Outdoor Connection furniture item and TEST IT AT HOME! (Satisfaction guarantee only covers furniture tested at home, this is to ensure the product is kept clean and in new condition. Furniture used for outings or camping trips is not covered by the satisfaction guarantee).
This 14-Day Furniture Satisfaction Guarantee applies to furniture* purchases at our online store http://www.outdoorconnection.com.au
If you don't find your furniture comfortable or practical, or you've changed your mind and would like to return your order, then Outdoor Connection may offer you either an exchange or refund providing the following conditions are met:
You have a valid Outdoor Connection Tax Invoice
You are the original purchaser, policy is not transferable
The product(s) are in original undamaged packaging
The product(s) have not been abused or altered
The refund or exchange is sought within 14 days of invoice date or the date of original dispatch
The product(s) would need to be returned to our Outdoor Connection warehouse, any cost associated with returning the goods would be at the consumers expense (note that we heavily subsidize shipping costs, but full shipping cost would be charged for returning items)
If shipping costs were charged on dispatch of the item to you, then these are not refundable
Is not subject to the exclusions listed in this policy
If you have any questions with regard to these exclusions, then please do not hesitate to call us or send an email to contacts@outdoorconnection.com.au
*Please choose carefully when purchasing the following products as we are unable to offer our 14-Day Money Back Guarantee on:
Ex Display or Clearance products
Gift Vouchers
Bedding
Dog Beds & Accessories
Cupboards & Pantries
The 14-Day Satisfaction Guarantee does not exclude or replace your statutory rights given under the Australian Consumer Law and Regulations ACT 2010.
Where a refund is sought for your purchase, the refund will be given using your original payment method.
On receipt of the returned item at Outdoor Connection, it will be inspected by Outdoor Connection staff to ensure these terms and conditions have been met.