SKU:TD34
Regular price
$849.95 AUD
Regular price
Sale price
$849.95 AUD
Unit price
per
Sale
Sold out
Taxes included. Shipping calculated at checkout

Free shipping for most orders over $95 AUD (See our shipping policy)

PRODUCT DETAILS

The Brampton three room family dome tent features great family space and comfort.  Three large bedrooms, with 210 cm peak height over the full length of the tent, provide that great 'fling your arms out'  feeling.  Fresh air ventilation is a must on those hot Australian summer nights.  Four large 'Floor to Eave' windows and four large Omega doors give maximum flow-through ventilation in every direction.  Fresh air and coolness right down to ground level where you sleep!   


Create wonderful memories with family and friends.

Feel secure with


Designed by Aussie campers for Australian conditions
Highest quality waterproofing

Superb ventilation and space – all the best in every tent
Best and strongest quality materials and sewing threads.
Quality manufacturing - best sewing workmanship available anywhere

See terms and conditions here

Outdoor Connection – Quality you can see, feel and trust

 

Outdoor Connection Brampton Tent

Three Room Family Tent perfect for family camping

Spacious 


Floor Size:

280(w) x 600(l) x 210 (h) cm.

 (Internal Measurement) The Height of 210 cm applies to the whole length of the tent. The higher the tent roof over the whole tent - the cooler the tent!

Side walls almost vertical and high, giving plenty of 'walk-around' cool space inside the tent with lots of headroom. A tall person can stand in the CORNER!

Hornet Pole System, 'easy to erect', means your tent is quickly and easily erected while being strong and stable in adverse conditions. Stability Plus Pole Sleeves hold the Hornet poles at the top of the tent - distributing weight evenly and minimising movement in the wind.
Large 3 pole awnings

, at each end provides heaps of headroom and space to relax outside in the shade.

Complete side awning. All window and door covers along each side of the tent can be pole out as awnings or joined together to make one continuous awning along each side, providing maximum protected area for relaxing outside.

Internal Rooms

End bedrooms 280 (w) x 210 (l)

 

Large side windows for great ventilation.  Internal privacy screens zip up from the bottom maximising your control of air flow and keeping you warmer in cool weather. All external covers can be poled or pegged out as protective awnings.

Large Omega screen door at each end of the tent

, with internal privacy screens

 provides a separate entrance AND a full wall of ventilation.

Middle room 280(w) x 180 (l)

 

Spacious middle room can be used as a bedroom or recreation/storage area.

Large Omega Doors on each side of the middle bedroom ensure maximum comfort and privacy. 

External door panels on the Outer Fly pole out as awnings.

Near vertical walls in each room for all-round maximum internal space.
Omega screen doors

 with internal privacy screens provide for all-around comfort.

Sewn-in

 

Dividing

 

Wall

, with Omega door, separates the rooms. Omega Doors tuck away neatly in a small side pocket.

Quality

100D HiCount fabric Outer Fly - heavier and stronger than any other dome tent fabric. See Tent Waterhead and Fabric Weight Comparisons.
Waterproofing

 

- MINIMUM 

3000 mm Waterhead

 (actually measured at 4500 mm) Stay dry, even in the most severe and persistent wet weather.

UV-PROTEK

 treatment

 of the Outer Fly, unique to Outdoor Connection tents, guarantees maximum resistance to fabric degradation from the damaging effects of UV light, offering longer life to your camping home. The 

Abrasion Resistant

 

coating

 resists waterproofing degradation from the erecting, folding and rubbing of the Fly over the years.

Durafine No-see-um Mesh - Fine, strong and hard wearing.
Heat Taped Seams and special tent sewing threads to

 ensure maximum waterproofing and strength.

Pre-tied guy ropes with zippered storage pockets.

Zips

: Coil #8 zips on all doors for strength and long-lasting durability. Coil #5 zips, for maximum protection against wind and rain on windows.

Comfort & Convenience

Inner tent of breathable polyester

 minimises condensation inside the tent.

Zippered inner tent privacy panels and mesh screening match the outer fly - the tent can be closed up from 

inside

 on cool nights.

Privacy Screens

 

on windows panels zip from the bottom upwards to control air flow into the tent. 

 All doors and windows have both mesh and privacy screens.

Large Omega doors are at each end and both sides of the tent and in the internal dividing walls.  Doors fully unzip to tuck away in a small storage pocket. Neat and compact!
Durafine No-See-Um mesh

 on all doors and windows.

PE Floor 175 Grams per Square Metre (GSM) provides maximum waterproofing and durability without creating too much weight.

Large side awnings - formed by the side doors and window covers on each side of the tent.  The door and window covers can be pole out and used as individual awnings or zipped together to form one long continuous awning along each side.  The covers can be lowered and pegged or poled out to protect the windows from showers while still allowing fresh air into the tent.
Three Pole Awnings

 

formed by poling out the two end doors of the Outer Fly. Outdoor Connection's design three-pole awning forms a pitched structure so the awnings can be left up in the rain.

Four awning poles provided with the tent.

Optional Side Walls

 attach to three-pole awnings can be poled out to form an extra-large awning in fine weather or pegged down for extra protection under the tent awning in wet or breezy weather.

Electrical Cord Access

 -Zippered access with hooks for hanging LED along the peak seam

Storage pockets

 sewn to the walls of the inner tent.

Door Locks

 for added security

EziPak Drop-In' Carry Bag

 with fold-over flaps. Compression straps with Snap-Lock buckles. No struggling to get the tent in the bag- just drop it in

Pack Size and Weight:

Tent Bag: 83 x 38 x 38 cm - 24 kg
Pole Bag: 79 x 18 x 19 cm - 11 kg
Packed in two separate 'EziPak' bags for easier carrying
Weight 35 kg.

Warranty:

Manufacturers Warranty of Five years against defects in manufacture or materials.
View full details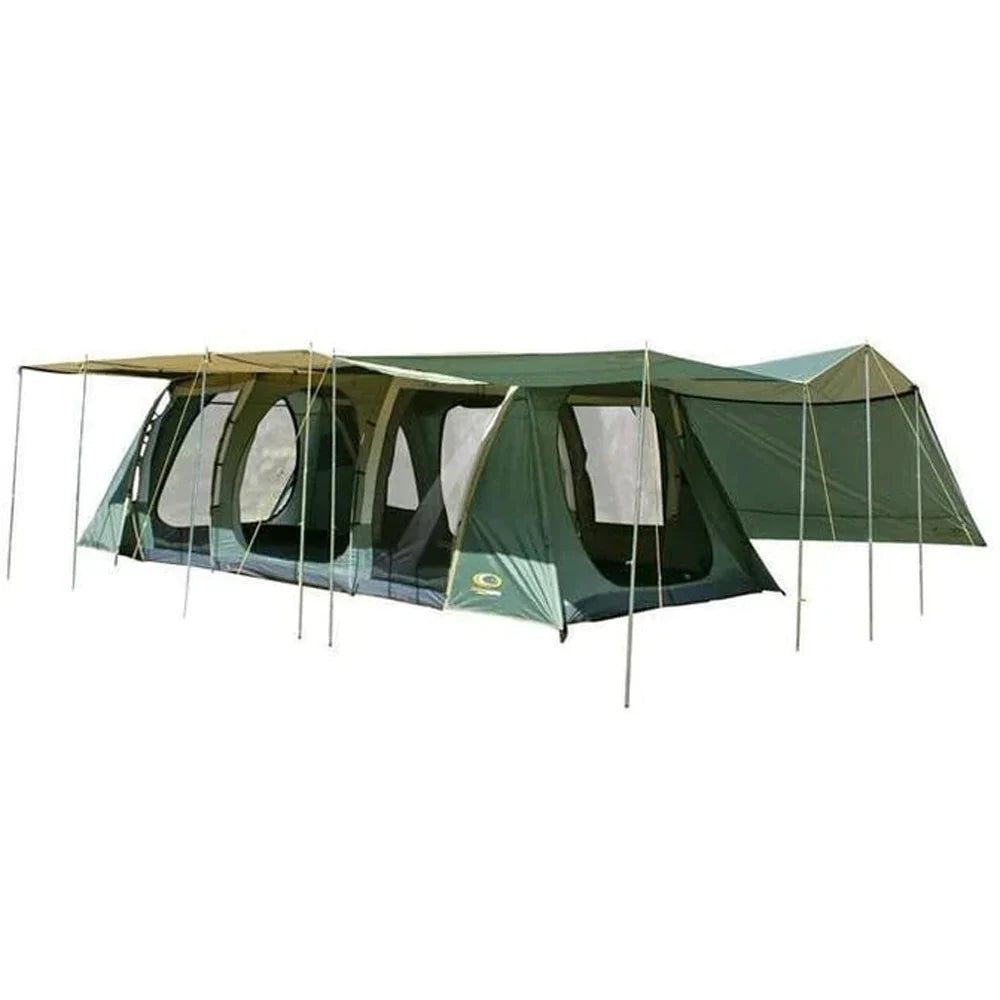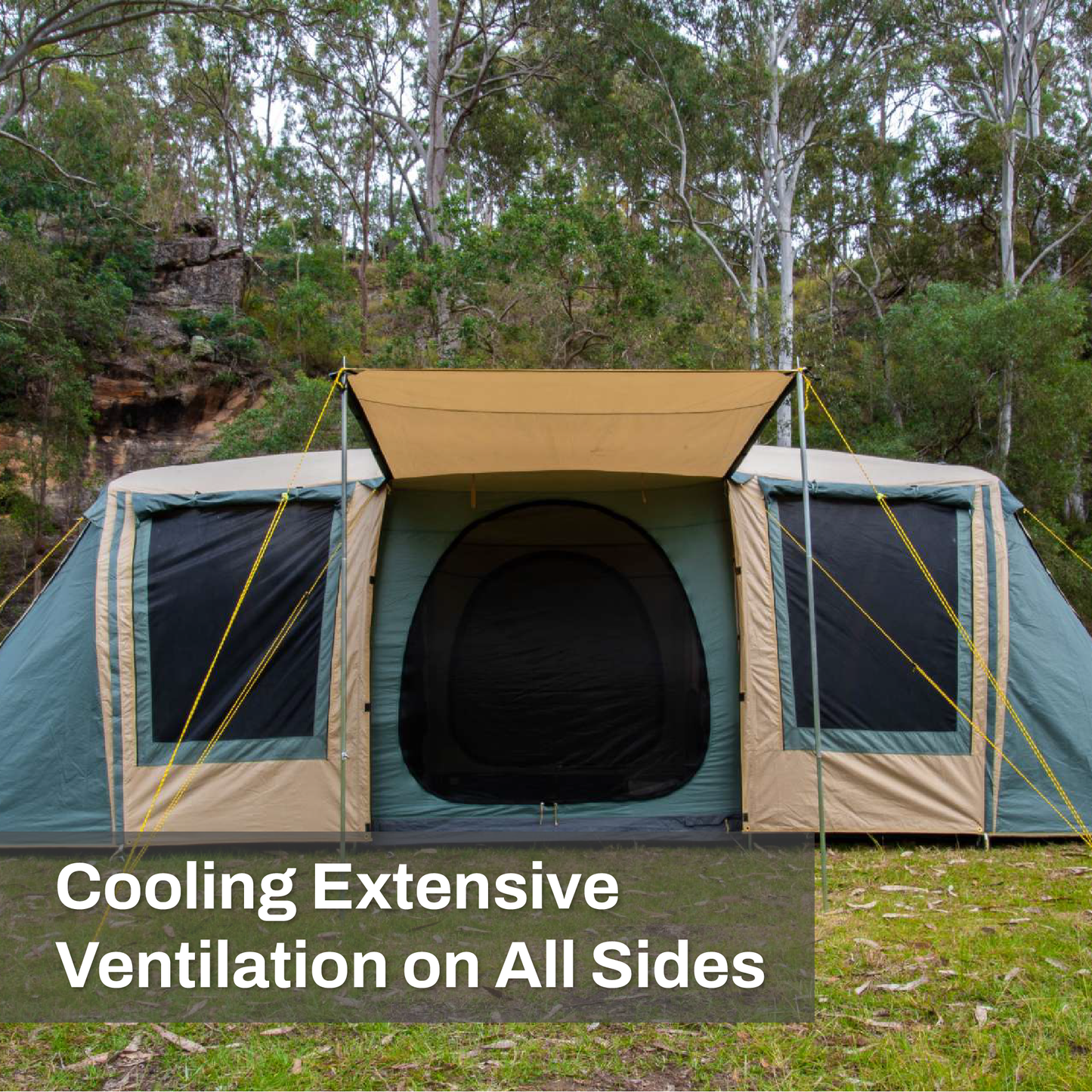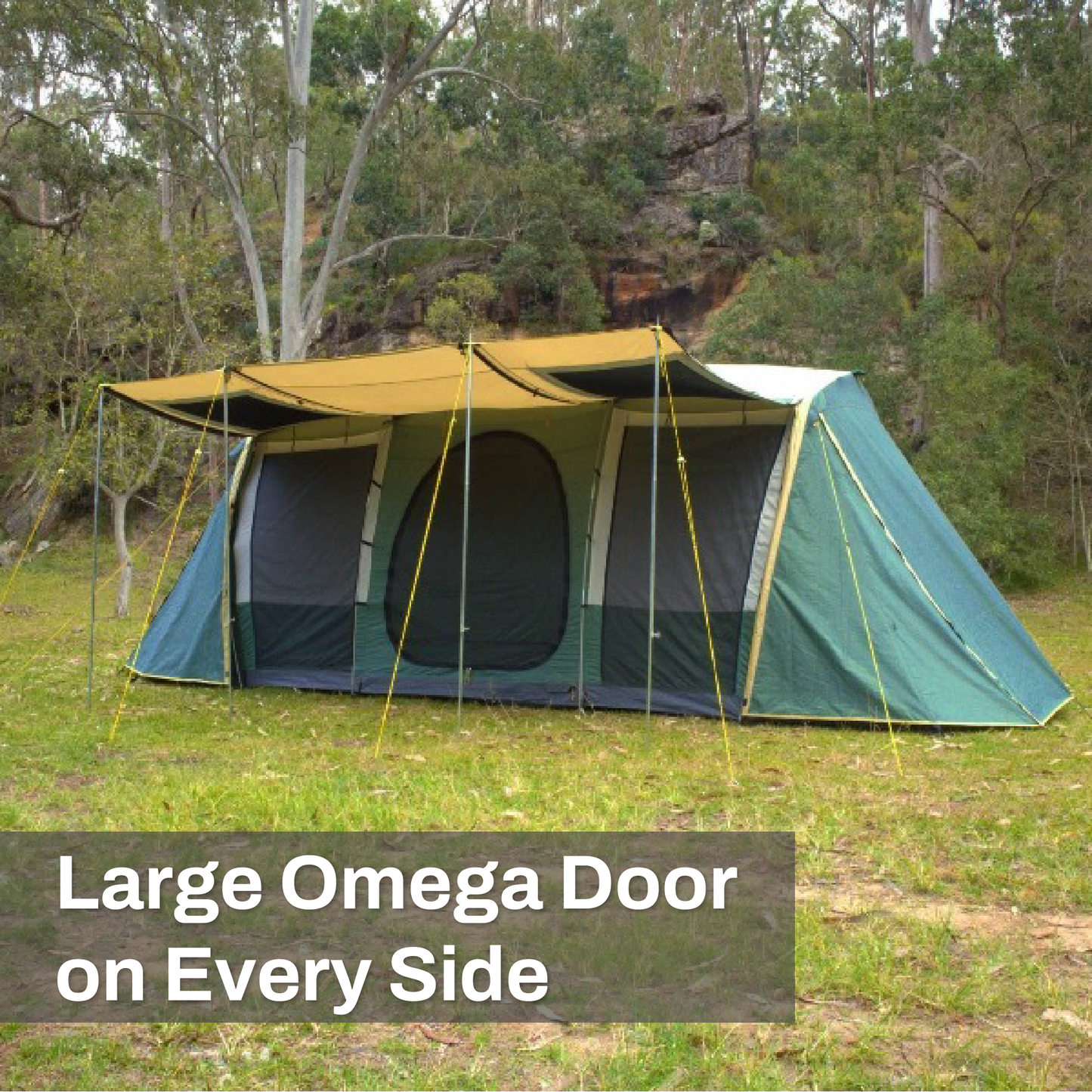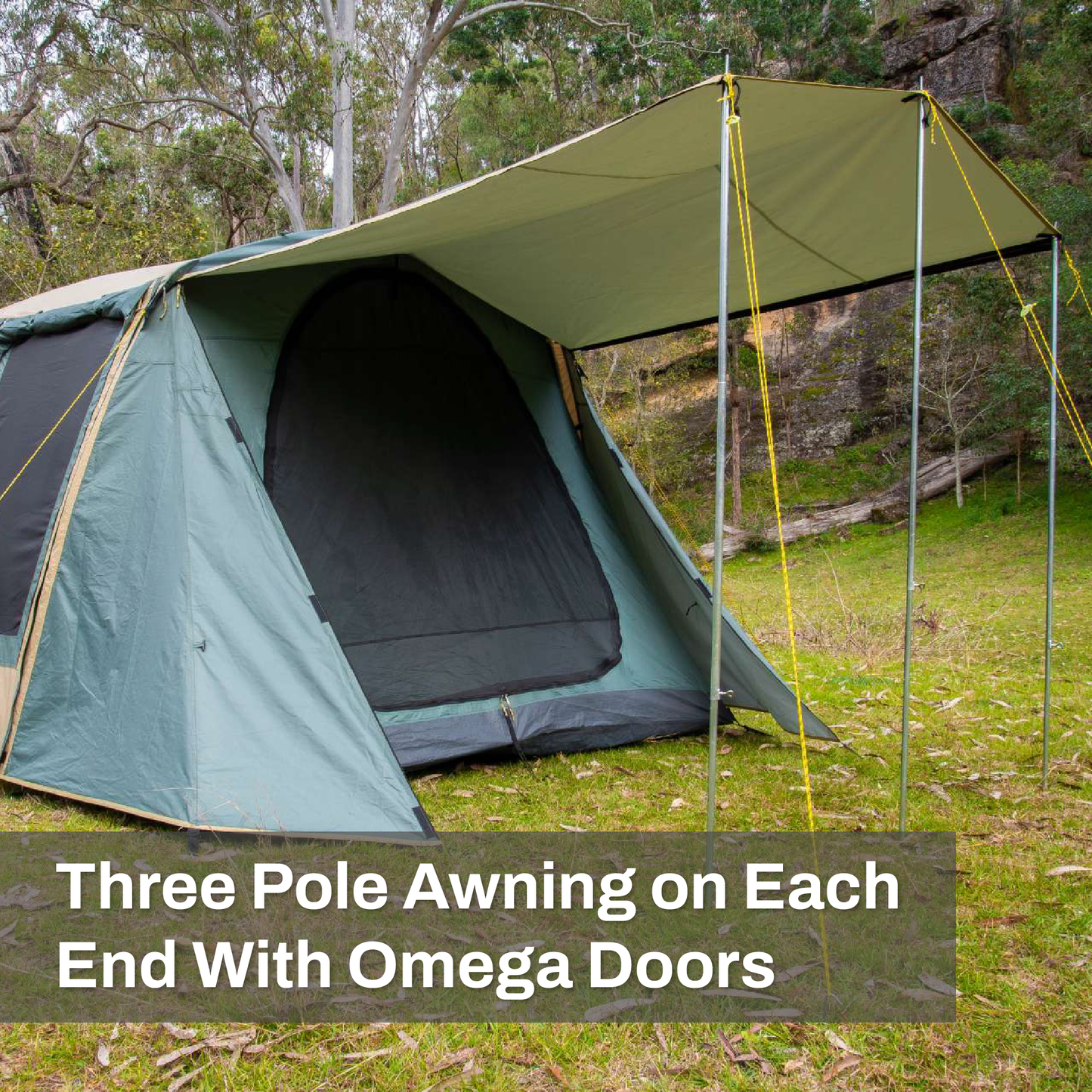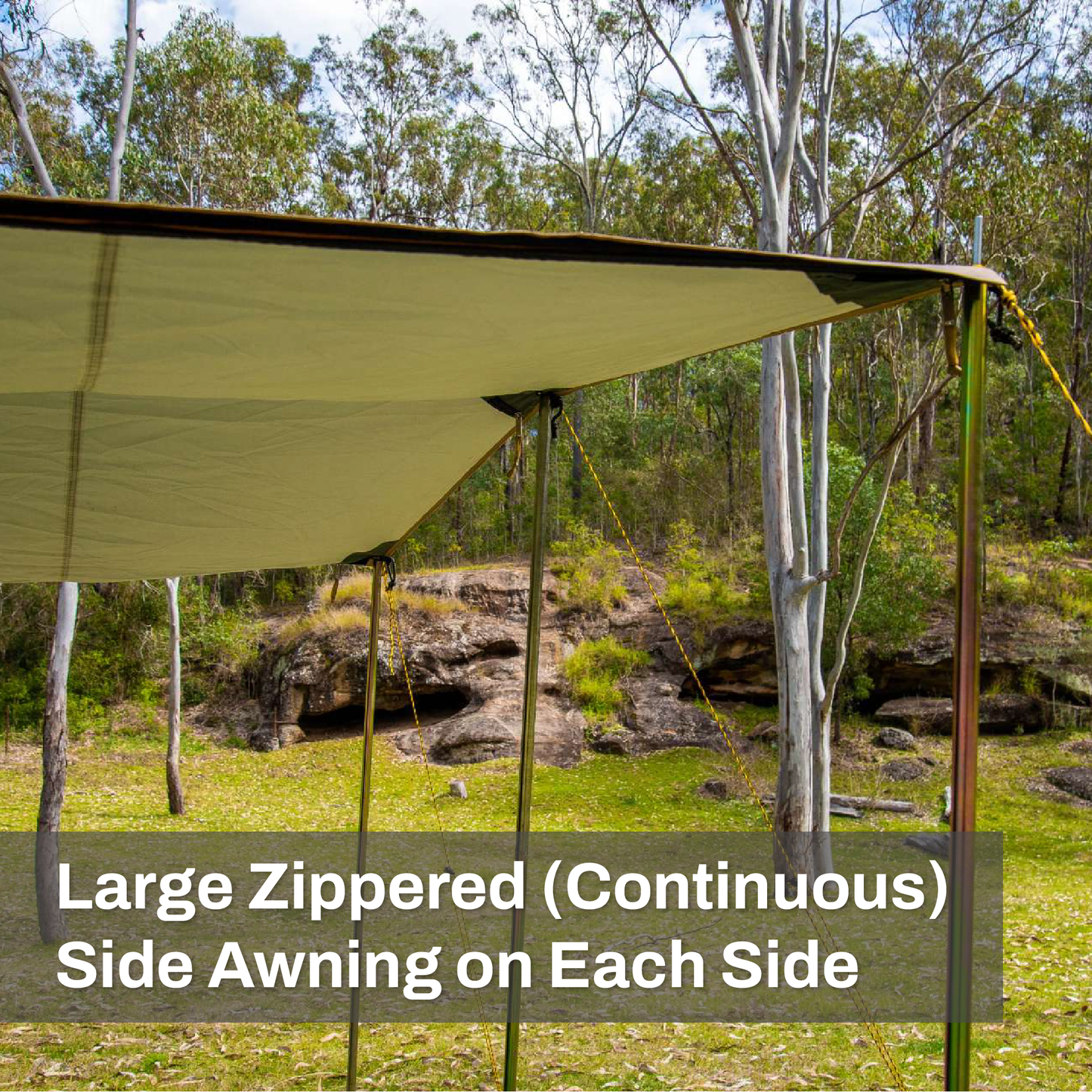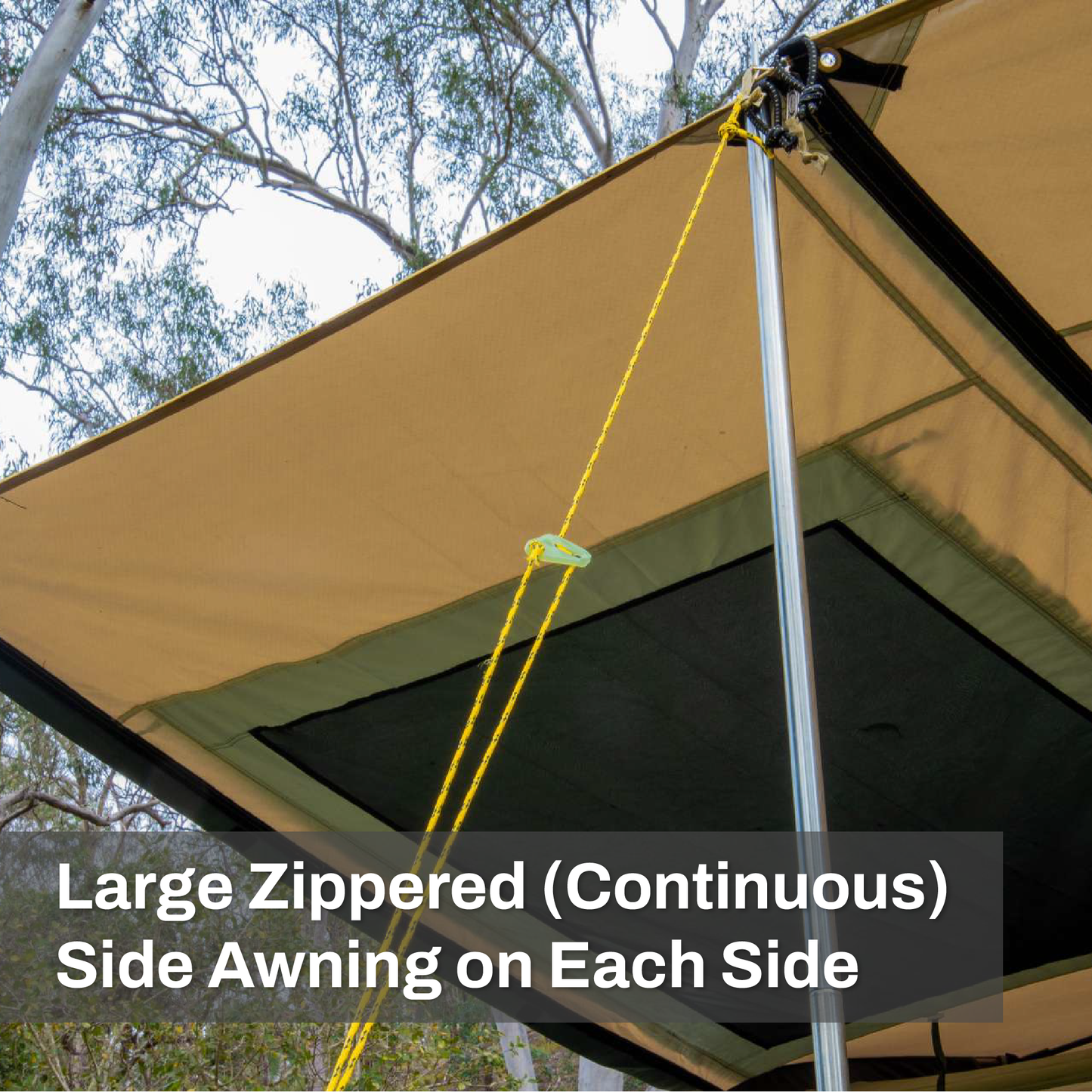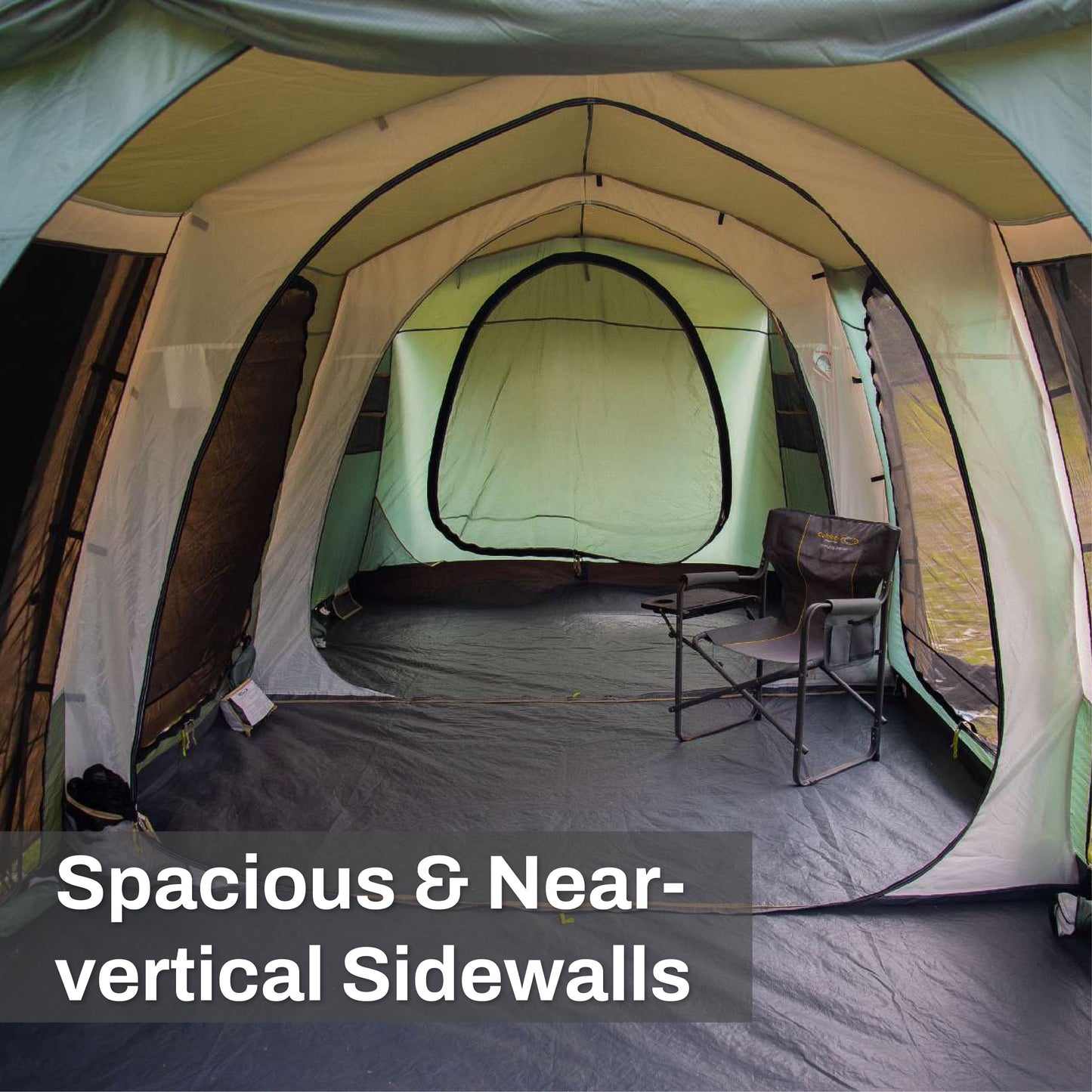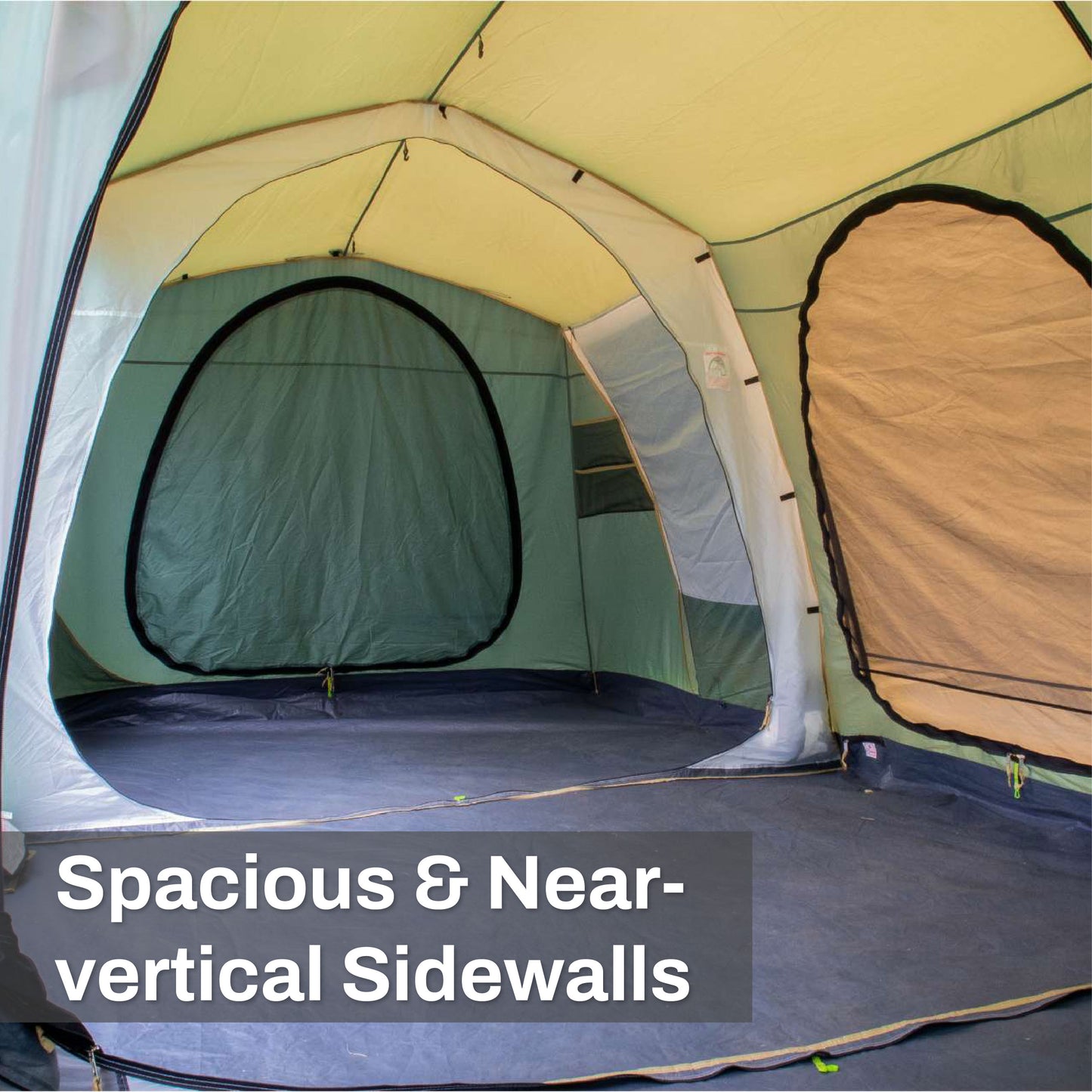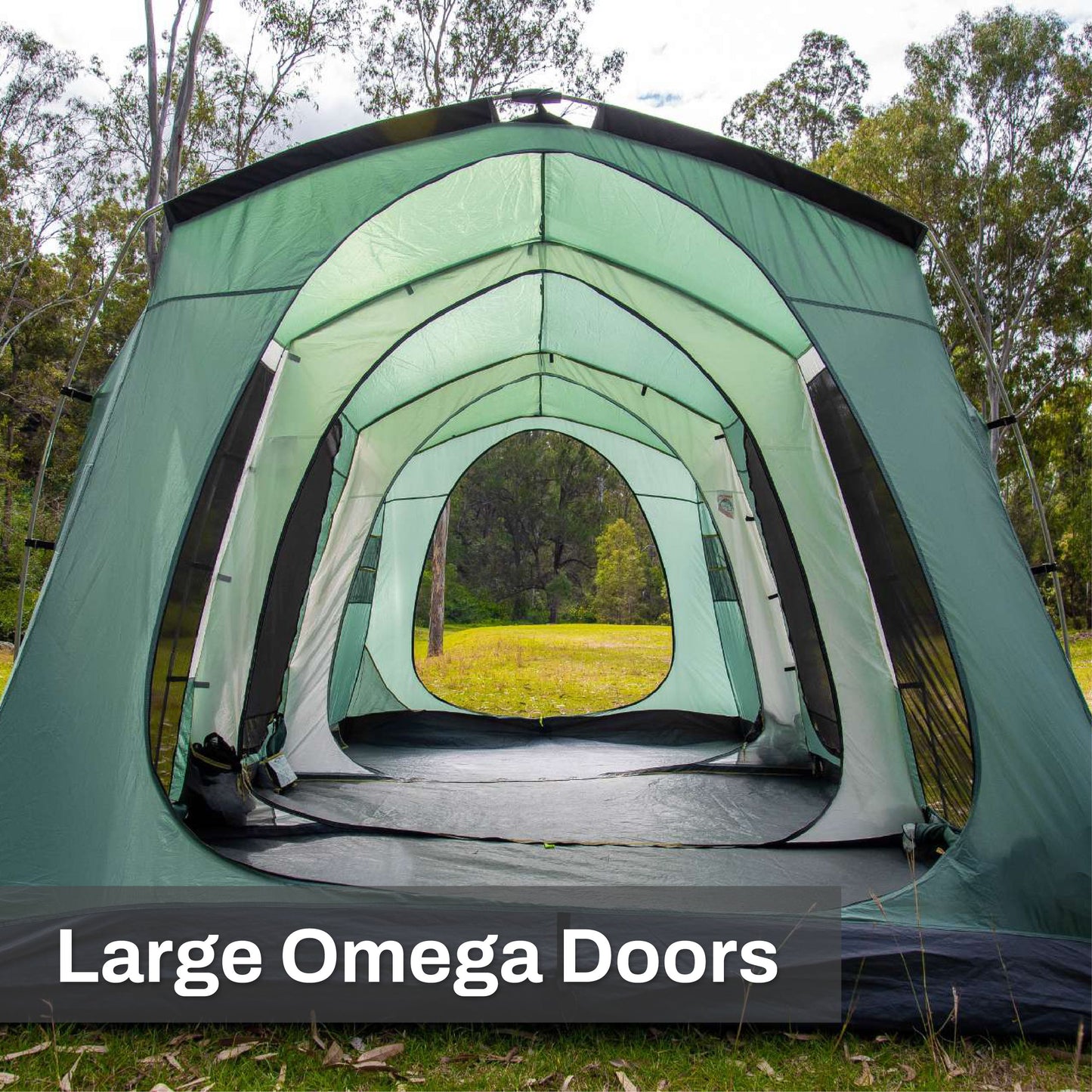 Spacious & Cool
Near-vertical side walls and large awnings all round
Windows from floor to roofline 
Huge Omega doors
Large Awnings
The three side wall panels zip together on each side as a single awning, and lets the tent provide even more shade. The large end doors form Outdoor Connection's three-pole awning on each end. This feature means you can leave your awning erected at full height even when it is raining. Optional Awning Side Walls velcro to these end awnings, making an extra large area of shade. When it's raining, drop the side walls down to keep it all out while still enjoying your large 'sitting around relaxing' space. You can sit and enjoy the rain as well as enjoy the sunshine!
Comfort
Extra peak and wall height provide a spacious cool environment. The higher the roof, the further you are away from the heat.

Large doors and windows complete the feeling of having lots of cool space. With the large awnings forming a verandah all round, this is a real country homestead.

Plenty of storage pockets are also sewn to the walls of the inner tent
THE HISTORY OF OUTDOOR CONNECTION
We sat down with Bill, the founder of Outdoor Connection, to find out how it kicked off. Learn more about how the business started back in 1984.
Outdoor Connection is an Australian family-owned company selling quality tents used and designed by our design and support team. Outdoor Connection Tents are designed for Australian camping conditions and manufactured to the highest quality in order to withstand the 'tuff stuff'.
OUTDOOR CONNECTION SUSTAINABILITY
CAMPING GEAR OR JUST LANDFILL?
Outdoor Connection is very conscious of the mountain of waste that we, as a nation, create. So often see reports of waste bins and skips full of discarded camping gear that is broken, often on first use, and left discarded at campsites. It's all just needless waste. At Outdoor Connection, we go to the effort and expense of making our products to a higher specification. We have instituted quality control procedures to ensure that our products meet those specifications. In addition, we make every effort to make products that provide great value and that will last to provide you with many years of great enjoyment and reward - out in the great outdoors!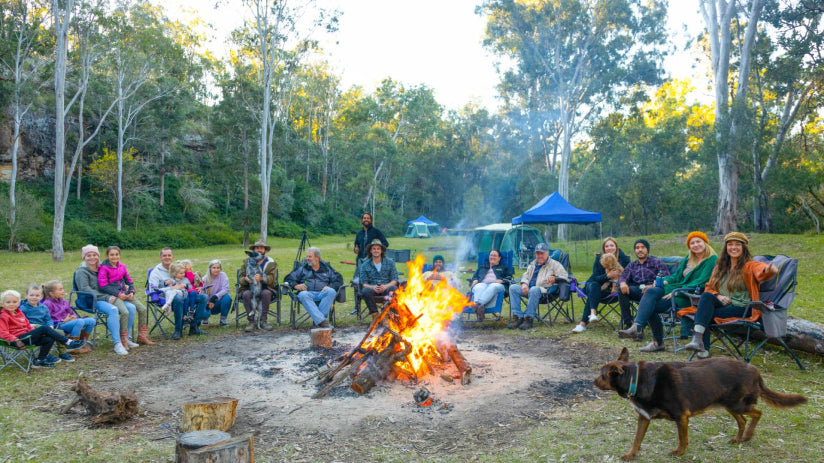 Strengthen your family connections
Camping gives you the opportunity to spend quality time with your family without the distractions of the daily grind. Doing simple things such as collecting wood for the campfire and building the fire together will help form connections that you may struggle to do at home due to the kids consistently being on their phones, laptops or tablets.
Learn more
Choosing the perfect family tent
Selecting the best tent for your family can be a difficult task. There are so many varieties, styles, brands, price ranges, features and benefits available, so where do you start? Let Outdoor Connection guide you to the tent with the best features, benefits and value for your next family camping trip.
Learn more
OTHERS ALSO VIEWED
Regular price
$119.90 AUD
Regular price
Sale price
$119.90 AUD
Unit price
per
Regular price
Sale price
$69.95 AUD
Unit price
per
Regular price
$315.00 AUD
Regular price
Sale price
$315.00 AUD
Unit price
per