SKU:TDA17
Regular price
$1,049.95 AUD
Regular price
Sale price
$1,049.95 AUD
Unit price
per
Sale
Sold out
Taxes included. Shipping calculated at checkout

Free shipping for most orders over $95 AUD (See our shipping policy)
View full details
Air Pole Technology
Setup time with this instant-up Air Pole tent, 'from bag to ready to move in' is about 10 minutes. Do it easy! Pump time with the manual pump takes about 2.5 minutes. Though if you just want to kick back, then just use the Outdoor Connection 12v HiFlo Pressure Pump and have it up in 8 minutes. Note that once the outer fly is set up with the tent, it can remain attached for future use.
Great for an overnight stay!
Air Pole Technology
This Air Pole tent only takes around 2-3 minutes for it to fully inflate and takes less than 15 minutes to completely set up for the first time. The fly comes separately coming from the factory, so after the first time you place the fly over the tent, you won't have to do it again as you can leave the fly on even as you pack it down. We have 12v electric air pumps for those who can't be bothered to pump it up manually.

It's quicker and easier to erect than traditional 'instant-up' tents. Just plug it, open your drink, sit back and relax while the tent inflates.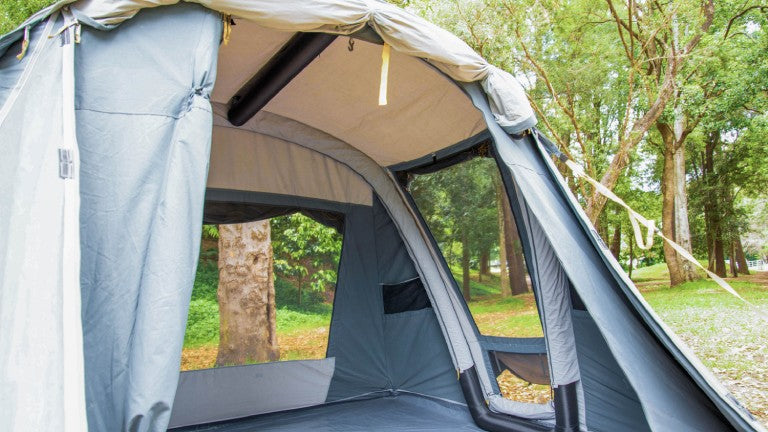 Canvas 230 GSM Fabric
Canvas 65/35 Polyester Canvas. 230 GSM with anti-abrasion formulation, as well as mould and rot resistant waterproofing treatment.

The Tanbar Air features the use of Coates 100% cotton and Dual Duty thread. This is a three heads spun thread designed for maximum strength. Cotton swells when it gets wet and this fills up the small needle holes made in the manufacturing process.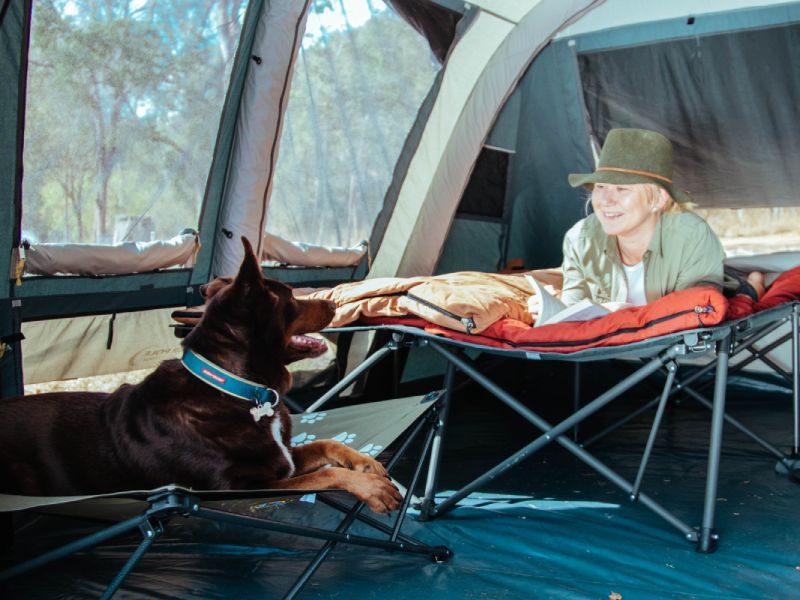 Large windows
Large side windows allow for coolness and comfort. The privacy screens can be zipped upwards from inside the tent while letting you have good control of your sleeping environment. The tent can also be closed up in cold weather.

The rear window allows for all-around ventilation. The gussets on the outside widow cover allow the window to be pegged out for ventilation even when it is raining.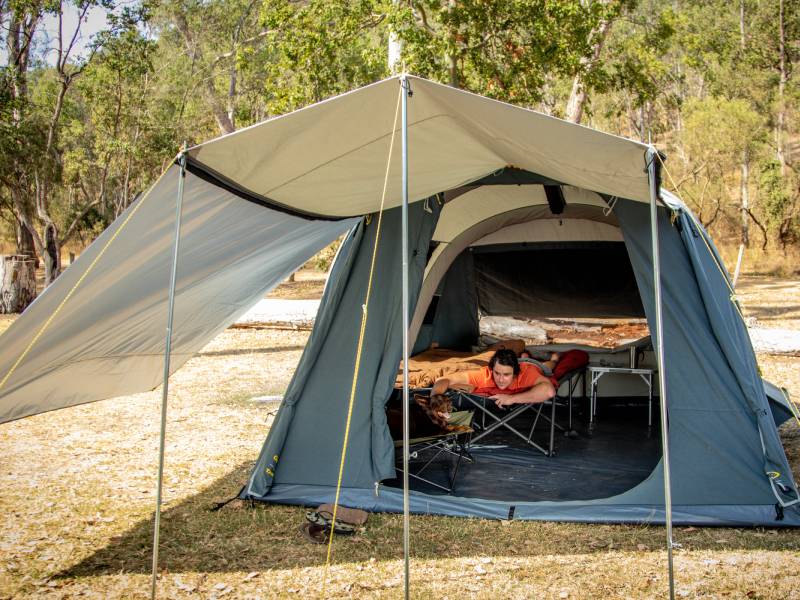 Three-pole awning with optional sidewalls
THE HISTORY OF OUTDOOR CONNECTION
We sat down with Bill, the founder of Outdoor Connection, to find out how it kicked off. Learn more about how the business started back in 1984.
Outdoor Connection is an Australian family-owned company selling quality tents used and designed by our design and support team. Outdoor Connection Tents are designed for Australian camping conditions and manufactured to the highest quality in order to withstand the 'tuff stuff'.
OUTDOOR CONNECTION SUSTAINABILITY
CAMPING GEAR OR JUST LANDFILL?
Outdoor Connection is very conscious of the mountain of waste that we, as a nation, create. So often see reports of waste bins and skips full of discarded camping gear that is broken, often on first use, and left discarded at campsites. It's all just needless waste. At Outdoor Connection, we go to the effort and expense of making our products to a higher specification. We have instituted quality control procedures to ensure that our products meet those specifications. In addition, we make every effort to make products that provide great value and that will last to provide you with many years of great enjoyment and reward - out in the great outdoors!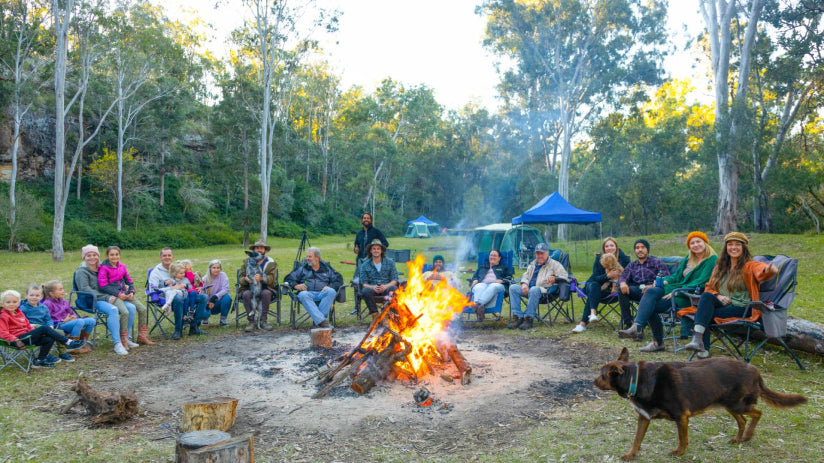 Strengthen your family connections
Camping gives you the opportunity to spend quality time with your family without the distractions of the daily grind. Doing simple things such as collecting wood for the campfire and building the fire together will help form connections that you may struggle to do at home due to the kids consistently being on their phones, laptops or tablets.
Learn more
Choosing the perfect family tent
Selecting the best tent for your family can be a difficult task. There are so many varieties, styles, brands, price ranges, features and benefits available, so where do you start? Let Outdoor Connection guide you to the tent with the best features, benefits and value for your next family camping trip.
Learn more
OTHERS ALSO VIEWED
Regular price
Sale price
$19.95 AUD
Unit price
per
Regular price
$370.00 AUD
Regular price
Sale price
$370.00 AUD
Unit price
per
Regular price
$329.95 AUD
Regular price
Sale price
$329.95 AUD
Unit price
per