SKU:TDA19
Regular price
$1,599.00 AUD
Regular price
Sale price
$1,599.00 AUD
Unit price
per
Sale
Sold out
Taxes included. Shipping calculated at checkout

Free shipping for most orders over $95 AUD (See our shipping policy)

PRODUCT DETAILS

Outdoor Connection Tanbar Air XL




The Outdoor Connection Tanbar Air XL is a larger more versatile version of the popular canvas Tanbar Air.  This large one canvas one room tent is quickly and easily be converted to 2 rooms with the supplied hanging room divider.

With Outdoor Connection Inflatable Air Pole Technology the Tanbar Air XL is quicker and easier to erect than traditional poled and ''instant up'' tents.  Simply peg out the floor;  pump it up;  attach a couple of guy ropes.  You are set up in under 10 minutes!

This spacious and rugged canvas Tourer tent is ideal for a couple of adults or a small family and is perfect for overnight travelling and extended stays with plenty of space for sleeping and storage.

 High, near vertical, sidewalls provide excellent  'walk-around' space and headroom. No more bending over to walk around in your tent. 

A large awning, with attachable optional Awning Side Walls, will complete your feeling of space and cool comfort.

See terms and conditions here

Outdoor Connection –

 

Quality you can see feel and trust

 

The Outdoor Connection Tanbar Air XL is a new Inflatable instant up Air pole canvas tent.  A modern version of a Tourer Tent that is much easier to erect with much more liveable space.

Spacious

380(L) x 300(W) x 205(H)cm plus awning.

Set-up time

, 'from bag to ready to move in', can be less than ten minutes. Great for an overnight stay!

Canvas 230gsm

 Fabric that is rugged cool and waterproof.




Design:

The Tanbar Air XL design creates a

very stable structure

with maximum peak height and tall, near vertical, sidewalls giving maximum coolness,  class leading headroom and space throughout the tent.   

Three Air Poles

cross the tent with

2 smaller ridge poles

that create the 

central spine of the structure.

Large windows and entry door

for maximum ventilation on those hot summers days and nights.




Quality Materials:

Canvas

Poly/Cotton 65/35, 230gsm. Strong, hard wearing, durable, waterproof canvas

Durafine No-see-um mesh for protection against midges andmosquitoes
Air poles

 

formed by a bladder of tough high-quality TPU (Thermoplastic Polyurethane) enclosed within a "Dura Sleeve" of laminated bonded polyfabric.  
Erected pressure is 7psi

forming a rigid stable Air Pole that easily supports the tent even in heavy conditions.

Floor - PVC coated woven polyester

for superior waterproofing and wear. Bucket floor design for extra proofing in severe conditions.

Sewing Thread

- Highest quality sewing thread available is used to ensure maximum strength and waterproofing. Waterproofing of polyester/cotton canvas tents requires a special thread. The Tanbar Air XL features the use of Coats Core Spun thread. This thread has a core of filament polyester for strength and an outer layer of strong natural cotton. This gives maximum strength. Cotton swells when it gets wet and this fills up the small needle holes made in the manufacturing process.

Zips

- Front D-Door has No 8 zips and windows have a finer No 5 zip for protection against water intrusion in wet windy conditions.




Comfort

Overall Tent Space and height

creates cooler comfort inside the tent.

Large Front Canvas D-Door

  with a Durafine mesh screen door inside provides ventilation and privacy.

Large Side Windows

 on each side for coolness and comfort. The large canvas outside cover can be rolled up or pegged out to give ventilation, some weather protection and privacy.  Waterproof 300D polyester privacy screens inside the tent zip upwards from the bottom. You have good control of your sleeping environment,  particularly when the weather is cooler.

Outdoor Connection 'Ventraflow' panels

 provide a cross flow of cool air and breathability low down where you sleep. The privacy screen on the inside of the panel zips from the floor upwards so you can control the amount of air entering the tent without needing to go outside.

The large windows and Ventraflow panels

mean that you have ventilation from floor to the eaves of the tent.

 Rear window for all-round ventilation

. The gussets on the outside window cover allow the window to be pegged out for ventilation even when it is raining. The gussets can also be unzipped and the cover rolled up for maximum air flow. The internal privacy screen can beused to fine tune your ventilation and air flow from inside the tent.

Durafine No-see-um mesh

for protection against midges and mosquitoes

Large three pole awning 

for shade and comfort with the 3 adjustable height poles, that give the awning pitch, allowing water to run off in the rain. You can still sit outside and enjoy the rain.

Optional Awning Side Walls

, are easily attached to maximise the space and useability of your Awning. The side walls can be pegged to the ground for maximum protection from the elements or pegged out at an angle to give airflow and a little more space.  

With extra poles and guy ropes the side walls can be pegged out to give even more undercover shade.

Room Divider

- The removable room divider allows you to separate the tent into 2 rooms if required

Gear Pockets

- 4 large handy gear pockets inside the tent for those bits

and pieces like keys, wallet, glasses, torch, book etc.

Electrical Cord Access

- Zippered access for electrical cords. Hanging hooks for LED lights along the peak seam and velcro tabs internally to secure cables keeping them neat, tidy and safe.

'Easy Pack Drop-in' Carry Bag

 - Oversized for easy packing.

High Volume Hand Pump

supplied for quick and easy inflation.  Electric 12V pump is available as an optional extra.




Dimensions:

Floor Size: 380(L) x 300(W)cm + large awning.

Peak Height: 205cm

Side Wall Height: 173cm

Front door: Size: 184(H) x 160/114(W) cm

Side windows: Size: (W) x (H) cm

Rear Window Size: (W) x (H) cm

Awning Length: 242cm

 

Pack Size and Weight:

Pack size: 80 x 45 x 45 cm

Weight: 35.2Kg including all pegs and poles.

Warranty:

Manufacturer's Warranty of five years

against defects in manufacture or 

materials.
View full details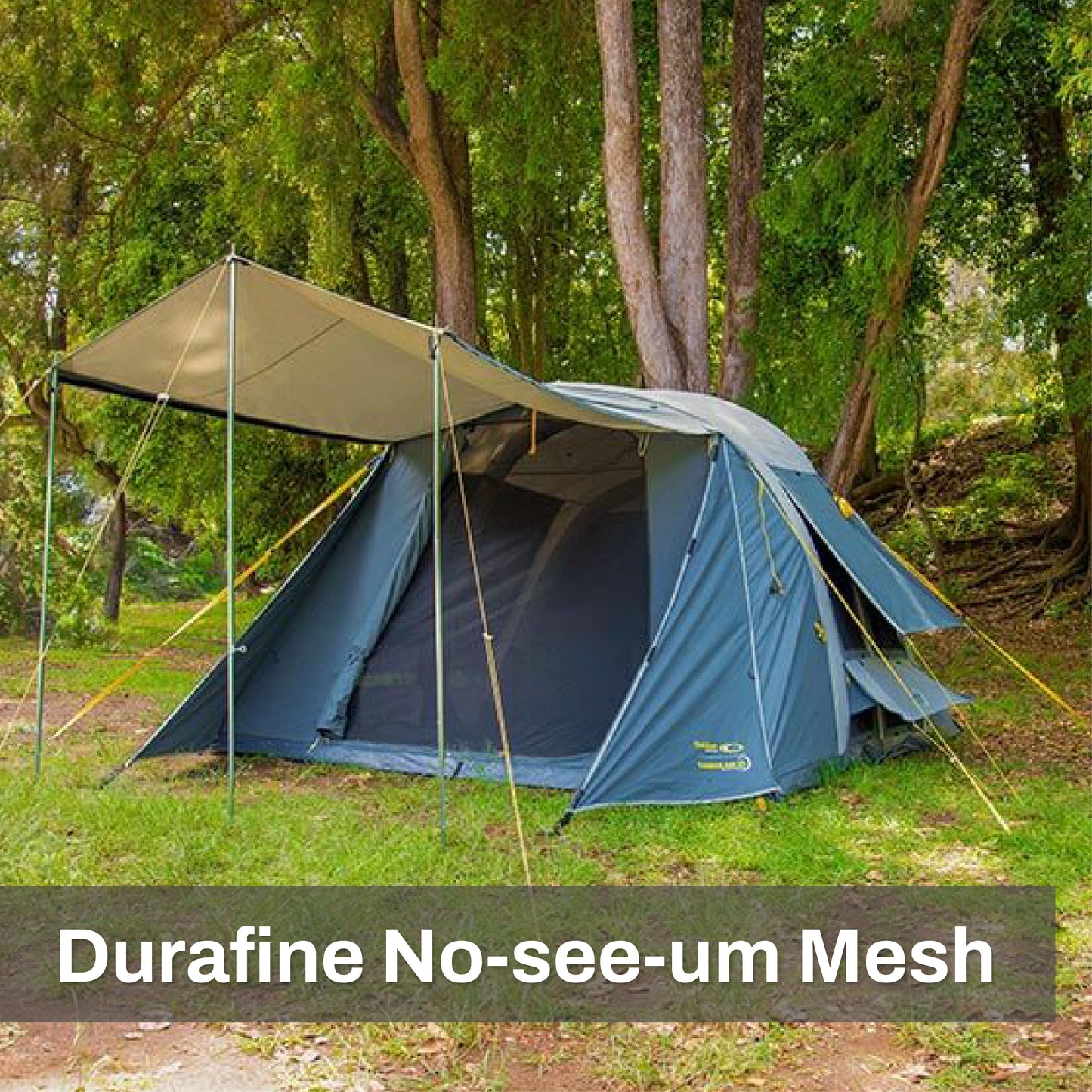 AIR POLE TECHNOLOGY
Setup time with this instant-up Air Pole tent, 'from bag to ready to move in' is about 10 minutes. Do it easy! Pump time with the manual pump takes about 2.5 minutes. Though if you just want to kick back, then just use the Outdoor Connection 12v HiFlo Pressure Pump and have it up in 8 minutes. Note that once the outer fly is set up with the tent, it can remain attached for future use.
Great for an overnight stay!
Air Pole Technology
This Air Pole tent only takes around 2-3 minutes for it to fully inflate and takes less than 15 minutes to completely set up for the first time. The fly comes separately coming from the factory, so after the first time you place the fly over the tent, you won't have to do it again as you can leave the fly on even as you pack it down. We have 12v electric air pumps for those who can't be bothered to pump it up manually.

It's quicker and easier to erect than traditional 'instant-up' tents. Just plug it, open your drink, sit back and relax while the tent inflates.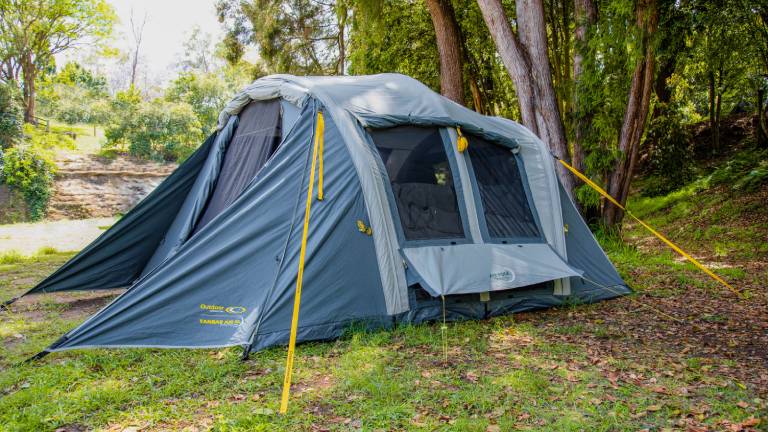 Canvas 230 GSM Fabric
Canvas 65/35 Polyester Canvas. 230 GSM with anti-abrasion formulation, as well as mould and rot resistant waterproofing treatment.

The Tanbar Air features the use of Coates 100% cotton and Dual Duty thread. This is a three heads spun thread designed for maximum strength. Cotton swells when it gets wet and this fills up the small needle holes made in the manufacturing process.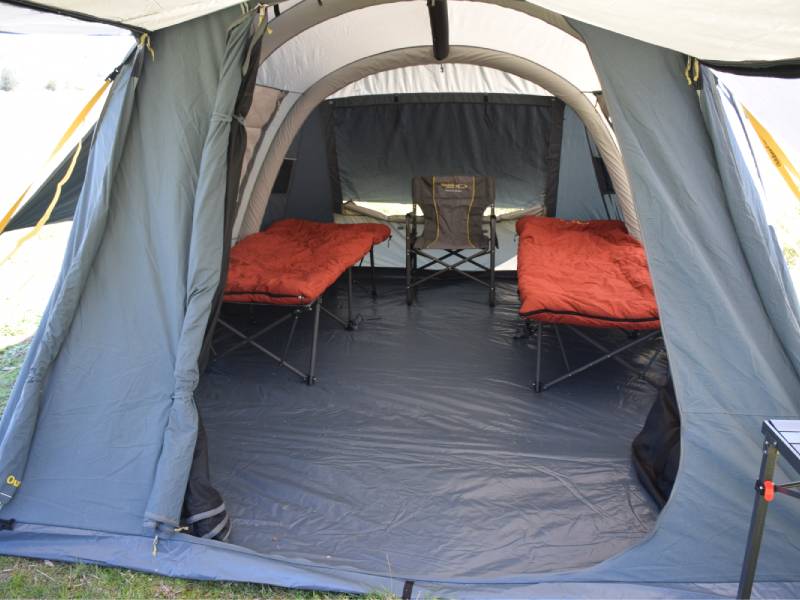 Spacious & near-vertical sidewalls
Spacious 380(H) x 300(L) x 205(W) cms. Sidewalls are very straight and high, giving plenty of 'walk-around' space inside the tent with lots of headroom. The large awning complements the feeling of cool comfort.

Extra peak and wall height provide a spacious and relatively cool environment. The higher the roof, the further you are away from the heat. Large doors and windows complete the feeling of having lots of room.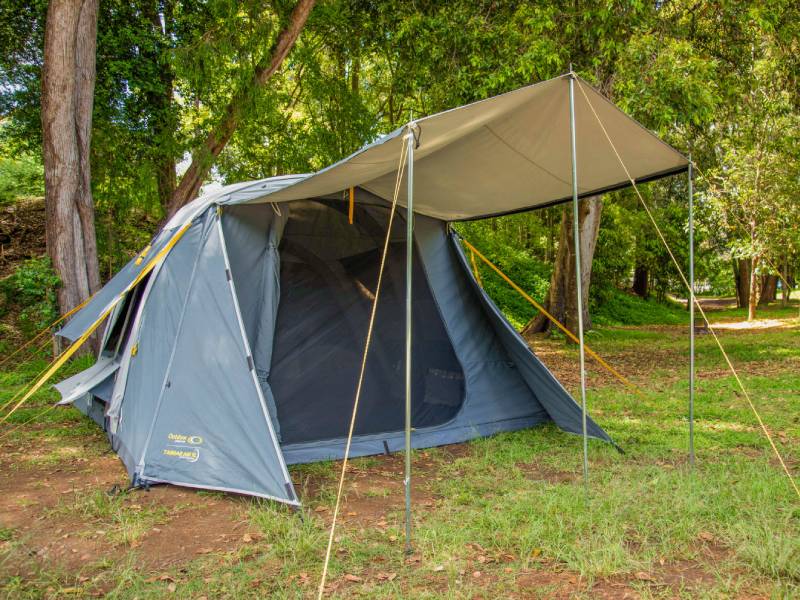 Three pole awning with Optional Sidewalls
THE HISTORY OF OUTDOOR CONNECTION
We sat down with Bill, the founder of Outdoor Connection, to find out how it kicked off. Learn more about how the business started back in 1984.
Outdoor Connection is an Australian family-owned company selling quality tents used and designed by our design and support team. Outdoor Connection Tents are designed for Australian camping conditions and manufactured to the highest quality in order to withstand the 'tuff stuff'.
OUTDOOR CONNECTION SUSTAINABILITY
CAMPING GEAR OR JUST LANDFILL?
Outdoor Connection is very conscious of the mountain of waste that we, as a nation, create. So often see reports of waste bins and skips full of discarded camping gear that is broken, often on first use, and left discarded at campsites. It's all just needless waste.

 At Outdoor Connection, we go to the effort and expense of making our products to a higher specification. We have instituted quality control procedures to ensure that our products meet those specifications. In addition, we make every effort to make products that provide great value and that will last to provide you with many years of great enjoyment and reward - out in the great outdoors!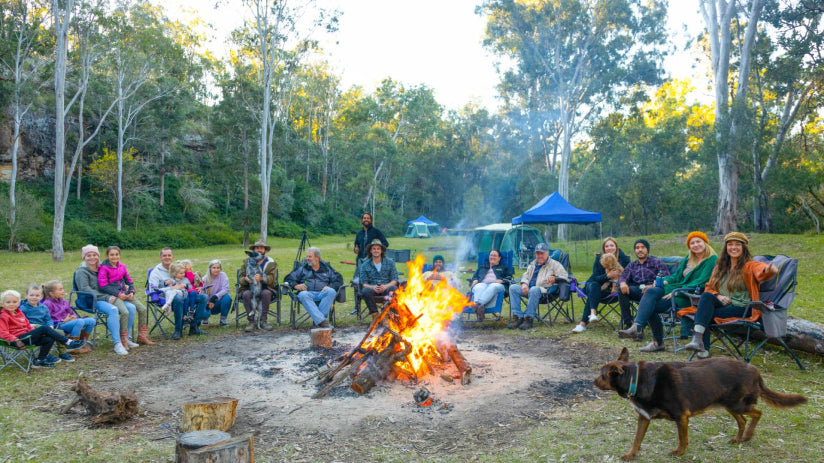 Strengthen your family connections
Camping gives you the opportunity to spend quality time with your family without the distractions of the daily grind. Doing simple things such as collecting wood for the campfire and building the fire together will help form connections that you may struggle to do at home due to the kids consistently being on their phones, laptops or tablets.
Learn more
Choosing the perfect family tent
Selecting the best tent for your family can be a difficult task. There are so many varieties, styles, brands, price ranges, features and benefits available, so where do you start? Let Outdoor Connection guide you to the tent with the best features, benefits and value for your next family camping trip.
Learn more
OTHERS ALSO VIEWED
Regular price
Sale price
$39.95 AUD
Unit price
per
Regular price
$199.95 AUD
Regular price
Sale price
$199.95 AUD
Unit price
per
Regular price
Sale price
$21.95 AUD
Unit price
per