SKU:TDA13
Regular price
$1,399.95 AUD
Regular price
Sale price
$1,399.95 AUD
Unit price
per
Sale
Sold out
Taxes included. Shipping calculated at checkout

Free shipping for most orders over $95 AUD (See our shipping policy)

PRODUCT DETAILS

Inflatable Instant Up Air Pole three room family tent. Easy and quick set up from bag to move in – just 12 minutes. Quicker and easier than traditional "Instant Up" tents. Waterproof, cool, and strong! A spacious comfortable family tent that is ideal for that family weekend away or for an extended holiday. 


See terms and conditions here

Outdoor Connection – Quality that you can see, feel and trust.

 

Check out our

 

Video

 

on Outdoor Connection Air Pole quality and comfort

Description

Inflatable Instant Up Air Pole three room family tent.

Spacious 300(W) x 240 + 180 +240(L) x 205 (H) cms. Side walls are very straight and high giving plenty of 'walk-around' space inside the tent with lots of headroom the whole length of the tent.
The large awning complements the feeling of cool comfort on your family holiday.
Set-up Time

 

with the Instant Up Air Pole Tent, 'from bag to ready to move in',  is about 15 minutes. Do it easy! Pump time with the manual pump about 4 minutes. Set-up is even easier with the Outdoor Connection HiFlo 12v Pressure Pump. Pump time is a little slower at 10 to 12 mins but it is more or less 'stand back and watch your tent go up'
Note that once the Outer Fly is set up with the tent it can remain attached for future use.

 Rooms

End bedrooms each 300(W) x 240(L)cms.

 

Each end bedroom has large Side Windows, with a screen from floor to eave, providing cross-flow ventilation for fully screened coolness and comfort. A large Omega screen door at each end of the tent rounds off your all-round comfort.
Removeable Hanging Room Dividers

 

are included for each of the end bedrooms
Middle room 300(W) x 180(L) cms

 

can be used as storage/living area or as a bedroom. The two side doors again provide cross-flow ventilation.
Sewn-in Dividing Walls

 

with an Omega door separate each room. The Omega Door mesh and privacy screens can be tucked away neatly in a side pocket.

Quality

Comfort

Inner tent

 

is breathable polyester for extra comfort and minimizing condensation inside the tent. The Inner tent has its own zippered privacy panel and mesh screening to match that on the outer fly. So that, while you have great ventilation, the tent can also be closed up from the inside if the night turns cool.
Remember a family of four may produce more than half a litre of condensation in a night so

 

ventilation

 

and breathability of the inner tent are important.
Privacy Screens zip from the floor upwards

 

on the full-length side windows so that you can control the air flow into the tent.
Large Omega doors, with both privacy panel and insect screen, are at each end of the tent as well as in the dividing walls between the bedrooms. These doors can be fully unzipped and tucked away in a storage pocket at the side. Very neat and compact! The Omega door can also be zipped partly up from the bottom to control air flow.
All doors and windows feature Durafine mesh and a privacy screen
All doors and windows can be closed from

 

inside

 

the tent
Large awnings

 

are formed by side the doors on each side of the tent which can be poled out and used as individual awnings or

 

zipped together

 

to form one long continuous awning along each side.
Three Pole Awnings

 

are formed by poling out the two end doors. Outdoor Connection's

 

three pole awning

 

forms a pitched structure so the awnings can be left up in the rain.
Optional

 

Side Walls

 

are available for these three pole awnings. Side walls can be attached to either or both sides of the awning and be poled out to form a great extra large awning in fine weather or pegged down for extra protection under the tent awning in wet or breezy weather.
'EzIPak Drop-In' Carry Bag

 

with fold-over flaps. Two compression straps with durable Snap-Lock buckles. No more struggling to get the tent in the bag.

 

Product Details:

Design

Inflatable spacious three-room cabin dome tent with fully sewn-in dividing walls between the three bedrooms.
All doors and windows, including the large Omega door in the sewn-in dividing wall, have privacy screens.
Sizes are all internal measurements.
Floor: 300(W) x 240+180+240 (L) cms.
Peak Height: 205 cms
Height at eaves:
Size at eaves:
End bedrooms size: (300(W) x 240(L)cms have large Side Doors and a large Omega door that opens out to a large three pole awning..
Middle bedroom 300(W) x 180(L) cms feature two large fully screened Omega side doors providing great cross-flow ventilation
Side walls are very near vertical and high giving plenty of 'walk-around' space inside the tent with lots of headroom.
High peak height and the tall near vertical sidewalls provide an overall feeling of comfortable cool space.

Tent Fabric Outer Fly:

100 Denier HiCount 130 Grams per Sq M (GSM) with exceptional TEAR STRENGTH to be secure in even the roughest weather. See Tent Waterhead and Fabric https://outdoorconnection.com.au/wp-content/uploads/Tent-Waterhead-Fabric-Weight-Camparisons.pdf
Outdoor Connection\'s unique UV Protek treatment helps protect your fabric against degradation from UV Light significantly extending the life of your tent.
UV Protek formulation also ensures high abrasion resistence of the waterproofing so that as your tent ages, and suffers abrasion from the normal use of erecting and folding away, your water resistance alters very slowly.

Waterproofing

3000 mm (Minimum) Waterhead for staying dry in the heaviest and persistent rain.

Inner Tent:

Fabric: 68D Breathable polyester to minimise condensation collection inside the tent living space.
Dividing Walls between the three bedrooms are all sewn in.Omega Durafine Mesh doors with privacy screens that can be opened to make a large room.
Removeable Hanging Room Dividers are provided for each of the end bedrooms.
The privacy screens on all doors can be zipped up from the base so that you can control the air flow through the tent.

Sewing Thread:

Highest quality sewing thread available used to ensure maximum strength and waterproofing. Waterproofing of polyester tents requires a special thread. The Aria Elite 3 features the use of Coates 100% cotton Dual Duty thread. This is a three heads spun thread with three separate cotton threads spun together. This gives maximum strength. Cotton swells when it gets wet and this fills up the small needle holes made in the manufacturing process.
Outdoor Connection actually manufactures tents (other models) so we know what we pay special attention to these small details!

Floor Material:

PE Floor 175 Grams per Sq Metre (GSM) provides maximum waterproofing and durability without creating too much weight.

Zips:

Coil No 8 zips are a feature of all doors for long lasting durability.

Doors:

Omega are double slide round doors that can be be folded away in a side pocket – neat and compact. The privacy screens can be zipped from the base upwards so that air low can be controlled.
The privacy screens on the bedroom side windows also zip from the base upwards for best climate control.

Tent Awnings:

Large three pole awning at each end of the tent, with optional side walls, provides a comfortable outside living area that, because of the peak created, can be left standing during rain periods. You can still enjoy the Great Outdoors even when it is raining..
Three Pole Awning Size: (L) x (W) measured from the edge of the inner tent and edge to edge (not including the peak)
Optional Side Walls can be fitted, on each side,to both these three pole awnings. These Optional sidewalls can also be poled out for extra shade area. It\'s massive! The side walls can be pegged down for more protection under the awnings during inclement weather.
Four adjustable height steel poles are supplied with the tent. Extra poles will be required if more than one awning is to be erected.
The three large side doors on each side of the tent open up as awnings and the awnings can be zipped together to make one large awning running the full length of the tent on each side.

Electrical Cord Access:

Zippered access for electrical cords. Hanging hooks for LED along the peak seam

Comfort:

Extra peak and wall height provide a spacious cool environment. The higher the roof the further you are away from the heat. Large doors and windows complete the feeling of having lots of cool space. With the large awnings forming a verandah all round this is a real \'country homestead\'.
Plenty of storage pockets are sewn to the walls of the inner tent.

Extra Features:

Handy corner storage pockets in the bedrooms.
High Volumer Hand pump included
12V HiFlo Pressure pump is an optional extra that makes erecting this three room tent a \'breeze\'.

Carry Bag:

Outdoor Connection\'s unique EziPak \'drop-in\' flap over carry bag with compression straps means no more struggling to fit the tent back in the bag. Just roll the tent up comfortable tightly and drop it back into the carry back. Tighten the straps with the snap-lock buckles and you are packed up ready to go home.
Pack Weight: 40.4 Kg
Pack Size: 81 x 41 x 41

Warranty

Manufacturers Warranty of five years against defects in manufacture or materials.
View full details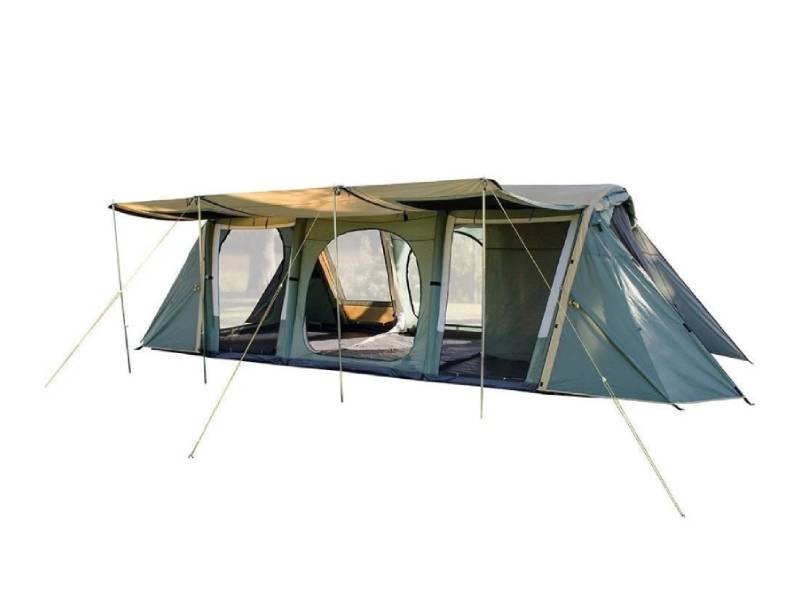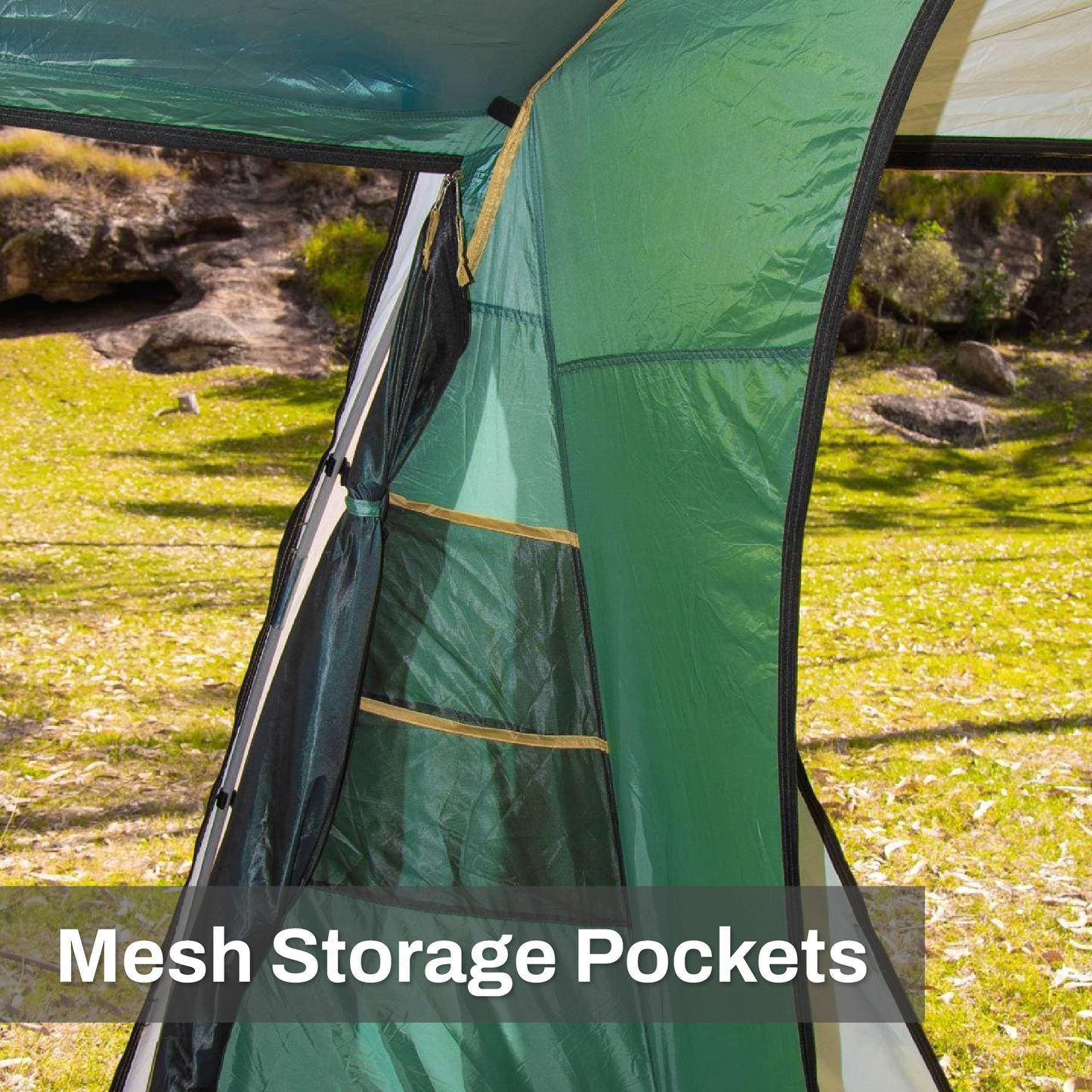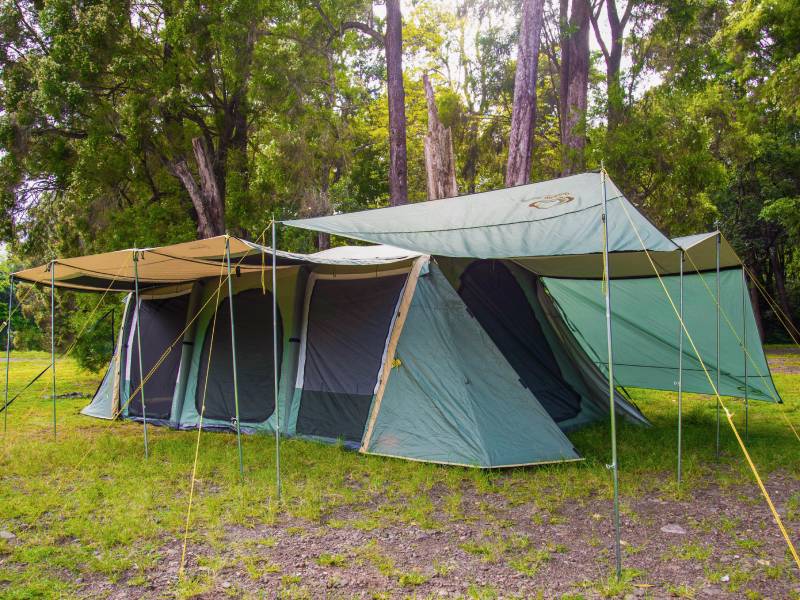 AIR POLE TECHNOLOGY
Setup time with this instant-up Air Pole tent, 'from bag to ready to move in' is about 10 minutes. Do it easy! Pump time with the manual pump takes about 2.5 minutes. Though if you just want to kick back, then just use the Outdoor Connection 12v HiFlo Pressure Pump and have it up in 8 minutes. Note that once the outer fly is set up with the tent, it can remain attached for future use.
Air Pole Technology
This Air Pole tent only takes around 2-3 minutes for it to fully inflate and takes less than 15 minutes to completely set up for the first time. The fly comes separately coming from the factory, so after the first time you place the fly over the tent, you won't have to do it again as you can leave the fly on even as you pack it down. We have12v electric air pumpsfor those who can't be bothered to pump it up manually.

It's quicker and easier to erect than traditional 'instant-up' tents. Just plug it, open your drink, sit back and relax while the tent inflates.
THE HISTORY OF OUTDOOR CONNECTION
We sat down with Bill, the founder of Outdoor Connection, to find out how it kicked off. Learn more about how the business started back in 1984.
Outdoor Connection is an Australian family-owned company selling quality tents used and designed by our design and support team. Outdoor Connection Tents are designed for Australian camping conditions and manufactured to the highest quality in order to withstand the 'tuff stuff'.
OUTDOOR CONNECTION SUSTAINABILITY
CAMPING GEAR OR JUST LANDFILL?
Outdoor Connection is very conscious of the mountain of waste that we, as a nation, create. So often see reports of waste bins and skips full of discarded camping gear that is broken, often on first use, and left discarded at campsites. It's all just needless waste. At Outdoor Connection, we go to the effort and expense of making our products to a higher specification. We have instituted quality control procedures to ensure that our products meet those specifications. In addition, we make every effort to make products that provide great value and that will last to provide you with many years of great enjoyment and reward - out in the great outdoors!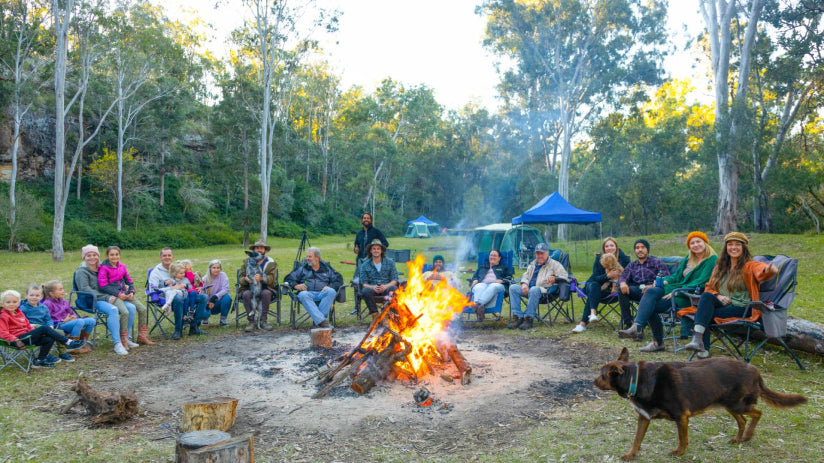 Strengthen your family connections
Camping gives you the opportunity to spend quality time with your family without the distractions of the daily grind. Doing simple things such as collecting wood for the campfire and building the fire together will help form connections that you may struggle to do at home due to the kids consistently being on their phones, laptops or tablets.
Learn more
Choosing the perfect family tent
Selecting the best tent for your family can be a difficult task. There are so many varieties, styles, brands, price ranges, features and benefits available, so where do you start? Let Outdoor Connection guide you to the tent with the best features, benefits and value for your next family camping trip.
Learn more
OTHERS ALSO VIEWED
Regular price
Sale price
$23.95 AUD
Unit price
per
Regular price
$28.90 AUD
Sale price
$23.40 AUD
Unit price
per
Regular price
$139.95 AUD
Regular price
Sale price
$139.95 AUD
Unit price
per